Blackline Safety's NEW G7 multi-gas pump cartridges are the latest in connected safety for confined space entry.
Using the NEW G7 Multi-gas Pump cartridge, businesses now have insight and control over each confined space entry and leak check survey performed. All data generated by the G7 wearables - including gas readings - is location-enabled and automatically uploaded to the Blackline Safety cloud-hosted Network.
Everything is connected, completely customisable and future-proofed, thus addressing the shortcomings of many of the existing solutions available today. It is easy within your online Blackline Live account to leverage large volumes of G7 data using our Blackline Analytics software. Driven by Microsoft's Power BI, Blackline Analytics seamlessly takes care of record-keeping, visualisation and analysis.
Key features
Real-time flow rate confirms sampling performance in ml/minute

Ultra-compact design is only 19 g (0.67 oz) bigger than our non-pump multi-gas cartridge

Automatically toggles from diffusion to pump operation when entering a pump configuration mode

Configuration modes automatically operate pump while capturing data for online analytics

Configuration modes help maximise the battery life by running the pump only when needed

Tubing length setting provides a sample duration time to ensure users gather a sufficient sample

Pump blockage alarm notifies users if the pump has an obstruction

Continuous pump run mode enables the pump to run continuously should a user require it

Lifetime gas sensor and pump warranty

Empowered data analytics
The connectivity behind G7 allows all devices to automatically stream pump data, gas readings and usage data to the Blackline Safety Network. For the first time ever, businesses can see exactly where and when employees entered a confined space, which gases they were exposed to and the duration of the exposure. Instead of manually compiling data to get an idea of teams' activities, G7 automates confined space entry and leak-check workflows, delivering more insights than ever before.
Real-time flow rate
When equipped with our new pump cartridge the G7c and G7x are the only pump instruments on the market that feature 'real-time flow-rate'. When combined with user-entered hose length, G7 gas monitors provide users with a sample countdown timer that ensures that the G7 has sufficient time to draw a sample from the remote environment.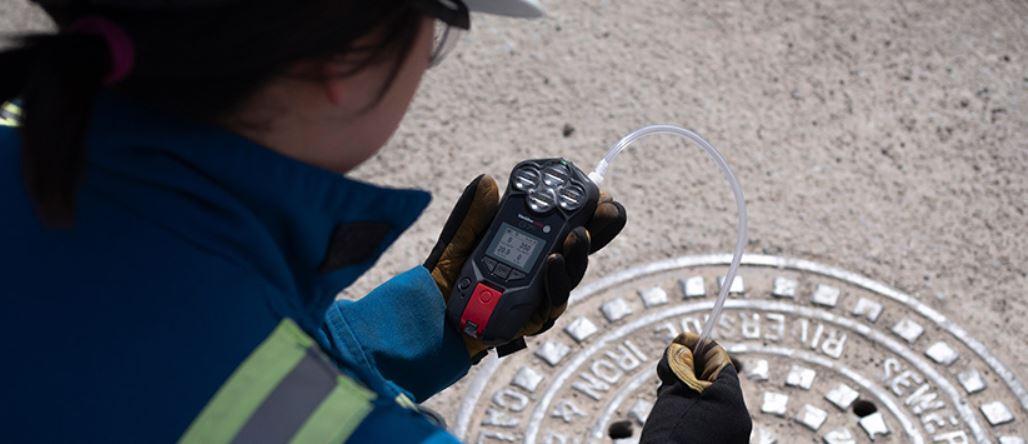 Field-replaceable for maximised uptime
The cartridges can be easily and quickly changed in the field. No matter if you want to equip a G7 wearable with a pump cartridge or a user encounters a sensor issue or a problem with a pump - our plug-and-play cartridges can be replaced in seconds. Device uptime is maximised and maintenance time is minimised, ultimately saving businesses money. The Blackline pump cartridge also features a field-replaceable inlet stack and dust filter.
User modes
Users can easily switch between operating the pump cartridge in diffusion and pump modes, without any tools. the G7 gas detectors support six configuration modes, allowing the user to temporarily change the G7 behaviour depending on requirements.
Normal - In this mode, G7 operates the pump cartridge in diffusion mode and will deliver maximum battery life.
Pre-entry - This mode is used before entering a space that could potentially contain dangerous gas. In this mode, you can alter how your G7 device will behave when it detects high gas levels. This mode is available by default for G7 devices fitted with a pump cartridge.
Leak check mode - This mode is used when checking for gas leaks in a particular area. This mode is configurable to use in pump or diffusion operation.
SCBA - Used when entering an area where the user has an expectation of high gas levels and the worker is wearing a self-contained breathing apparatus. This mode is configurable to alter gas alarms and safety alerts to suit the scenario.
High risk - This mode is designed for high-risk situations, such as evacuations or when traveling through known dangerous areas. If desired, this mode allows G7 to have more frequent check-ins and modified safety monitoring functionality.
Pump run - This mode runs the built-in pump continuously – such as for use in a hole-watch scenario. Unlike other modes, the pump run mode will not stop after a pre-determined time-out. Due to continuous operation of the pump, we recommend using our new G7 PowerPack to ensure adequate battery life.