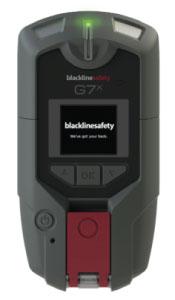 Satellite connected safety wireless gas detector with live lone worker monitoring.
Blackline Safety's G7x - features an industrial-strength radio link allowing it to communicate with the compact, portable G7 Bridge base station. Your employees can work confidently upto 2 kilometers away from the bridge knowing their safety is continuously being monitored in real-time. The G7x and G7 Bridge work together to keep your teams covered, in even the most remote locations.
The G7x defines a new level of lone worker monitoring technology. With seamless satellite connectivity, the G7x solution integrates the latest Internet of Things technology to keep your teams — and their safety — connected.
The G7x features:
Gases monitored - H2S, LEL, CO, O2, CO2, NH3

3G Communication

No-motion Detection triggers alarm

GPS Location & Employee Check-in

Fast Emergency response with Evacuation management

SOS latch for employee activation

Customisable, field replacable Sensor Cartridges

Lifetime Warranty on cartridges

Automatic updates with Wireless Connectivity

24/7 Live Monitoring

Intrinsically Safe
Customisable Gas Detector monitoring your safety wherever you go
Blackline has designed the G7x to address every facet of your safety program. The G7x gas monitors with lone worker monitoring leverage the G7 Bridge portable uplink base station to connect to available cellular and satellite networks. Connectivity transitions effortlessly to satellite when 3G is unavailable to ensure constant safety monitoring. G7x communicates with G7 Bridge using an industrial-strength 900 MHz radio link up to 2 km away. The G7 Bridge connects G7x employee-worn devices to the Blackline Safety Network via satellite or cellular networks.
The G7x can be tailored to specific work environments with the ability to replace the sensor cartridge within the field. Choose and change from single or quad gas options. Cartridge options include:
Standard - lone worker safety

Single Gas - customisable single gas options

Quad Gas - monitor for up to four gases
Wireless Configuration
With wireless connectivity each G7c gas detector can be remotely configured and firmware updates are automatic allowing consistent and up-to-date operation. Current setup and configurations are shared with employees at every start-up. Your workers are covered from detecting gas leaks to monitoring lone workers and evacuating facilities. Every safety incident and gas alert is communicated instantly to Blackline Safety for storage and reporting.
User Interface
Gas readings

Bump Test & Calibration reminders

Employee Check-in

SOS latch

SureSafe® Lighting / Vibration & Sound
S

Green light - indicates live monitoring (the worker knows they are being monitored)
S

Yellow light / Vibration & Sound - indicates an incoming message to the worker
S

Red light / Vibration & Escalated Sound - indicates that assistance is needed or that a Yellow alarm has not been responed