In late 2018, Blackline Safety introduced the world's first cellular-connected gas detector with plug-and-play pump cartridge, making it the ideal gas detector for confined space entry.
When and where are workers entering confined spaces? How long are they inside? Did they encounter any environmental hazards? Where are gas leaks occurring?
In the past, confidently answering these questions has been a challenge for many businesses.
Part of our G7 Insight program, Blackline Safety's award-winning G7 gas detector is now supported by a new G7 Multi-gas Pump Cartridge option. With G7 and our new combined gas sensor and pump cartridge, Blackline is revolutionizing the gas detection confined space gas monitor and leak-check market.
THE HARDEST-WORKING CONNECTED GAS DETECTOR WITH PUMP OPTION
Blackline's G7 is the industry's first and only connected gas detector with plug-and-play gas sensor cartridges. Our all-new pump cartridge fits seamlessly into Blackline's G7 Insight program that bundles industry-leading gas detection, automated compliance and business analytics for mainstream gas detection applications. It's never been easier for businesses to get a confined space gas monitor into their teams' hands, ensuring compliant and productive confined space entry and leak-check operations.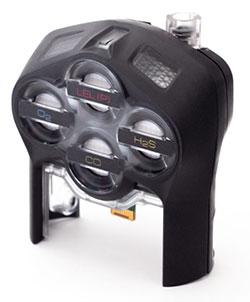 This new G7 cartridge features the world's smallest and smartest integrated pump, delivering superior ease of use and wearability. Barely larger than our G7 Multi-gas Diffusion Cartridge, our new pump cartridge automatically transitions from diffusion mode to drawing air from its inlet when the pump is turned on. When installed on a G7 gas detector, our new pump cartridge provides G7 on-screen flow rate monitoring. It automatically adjusts the power applied to the internal piezoelectric pump based on the line load. Should the pump become blocked, G7 will display a message to reposition the tubing or probe, or to inspect the pump inlet.
Never wonder if your pump is working properly — our new pump cartridge provides you with the clarity you need, to know that everything is working properly or something needs attention. It's also easily serviceable — with a single screw, you'll be able to quickly change the inlet if it becomes damaged or replace the filter.
Best of all, Blackline provides a lifetime warranty for all gas sensors and cartridges — should a pump cartridge stop working or a sensor fail at any time, Blackline will provide you with a replacement cartridge at no cost. Replacement takes a few seconds, eliminating downtime.
CONNECTED TECHNOLOGY — MAXIMUM VISIBILITY WITHOUT THE WORK
Featuring integrated 3G connectivity, automated compliance and transparent business analytics, G7 Insight with our pump cartridge makes the days of manual compliance reporting a thing of the past. No more retrieving compliance data from docking stations in the field, no reviewing spreadsheets and no compiling reports any longer.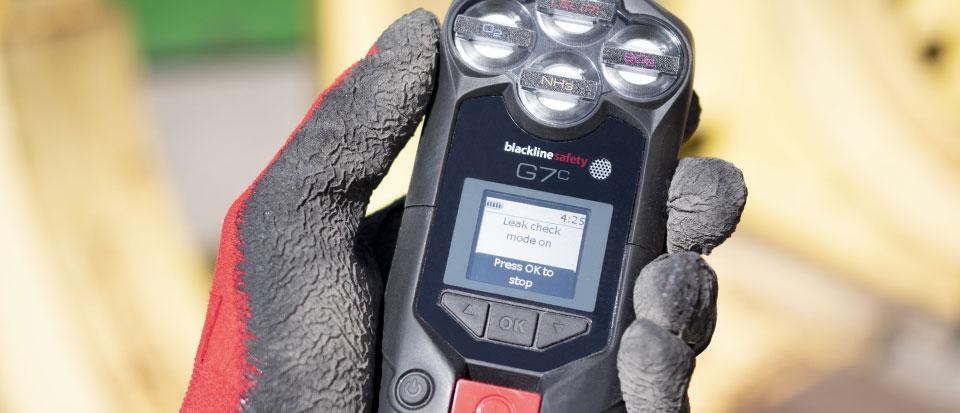 ANALYTICS — BIG DATA DELIVERS BIG INSIGHTS
As the world's most powerful gas detection system, G7 Insight puts more data than ever at the fingertips of the people that need it. Employee-worn G7 gas detectors constantly record usage and environmental information. With as little as 10 minutes of coverage per day, G7 devices automatically upload all data to the Blackline Safety Network. This includes G7 gas detectors equipped with our new pump cartridge.
Our online Blackline Analytics software collects, processes and and presents this data in an easy-to-use online interface for efficient presentation and consumption. Businesses can now prove where confined space entries took place, when they happened, who was involved and what hazards were encountered — all the answers and no manual work. At a glance, see who is performing leak-check surveys, see the gas readings encountered and where leaks occur on an interactive map.
CONFINED SPACE GAS MONITOR WITH SEAMLESS DATA COLLECTION
Competitor wireless gas detector offerings make use of industrial Wi-Fi networks or a Bluetooth connection to a smartphone. Many businesses haven't invested in the expense and complexity of Wi-Fi networks across their sites and many businesses don't allow smartphones on-site for concern about security and privacy. Intrinsically safe smartphones are also an expensive addition. Instead, G7 features internal 3G cellular communications that automatically connects to nearby networks, uploading gas readings and compliance data to the Blackline Safety Network. Everything is taken care of by G7 gas detectors through turnkey communications that only require minutes of cellular connectivity per day. No worries about staying connected.
Leveraging built-in assisted-GPS and our proprietary location beacon technology, every gas reading is location-tagged and can be mapped in our online Blackline Live portal. Businesses can confidently identify where confined space entries took place and, with time-stamped environmental readings, they can see when the entry took place and the type and concentration of any gases encountered.
CONFIGURATION MODES
New G7 firmware supports the pump cartridge and provides new device configuration modes — change how G7 operations on-the-fly based on the situation or application. Using a new option in the G7 menu, users can tailor their gas detector operation to their workflow. In addition to configuration modes, Blackline's multi-gas pump cartridge automatically switches between pump and diffusion gas detection modes without switching out cartridges or changing to a new device.
NORMAL
This is the regular diffusion gas detection mode and the pump is turned off.
PRE-ENTRY
This mode is used before entering a space that could potentially contain dangerous gas. In this mode, the pump will turn on to draw in surrounding air and pull it across the gas sensors. In this mode, you can alter how G7 will behave when it detects high levels of gas — as this is performed prior to employees entering the space, pre-entry mode can be configured to not go into alarm as gas may be an expectation. This mode is available by default for G7s fitted with a pump cartridge.
SCBA
This mode is used when entering an area known to have high gas levels and the worker is wearing a self-contained breathing apparatus (SCBA). With SCBA entries, where gas encounters are expected, this mode can be configured to shift gas alarm thresholds in order to avoid nuisance alarms. This mode facilitates both pump and diffusion gas detection functionality, depending on the requirements of the environment or a business' requirements.
LEAK CHECK
This mode is for when G7c is being used to check for gas leaks in a particular area. Users can switch between pump and diffusion gas detection settings depending on the environment. Gas readings from leak checks plus standard day-to-day encounters are presented in Blackline Live, contributing to an automated gas exposure heat map. Businesses can leverage this data to investigate potential leaks in order to plan proactive facility maintenance.
HIGH-RISK
This mode is meant for general high-risk situations, such as evacuations or when traveling through known dangerous areas. If desired, this mode allows G7c to have more frequent check-ins and modified safety monitoring functionality.
G7 INSIGHT + REAL-TIME SAFETY OPTIONS
G7 Insight and our new pump cartridge deliver the most effective confined space gas monitor and leak-checking capabilities available. G7 Insight is supported by a range of gas detection options, including a broad range of gas sensors, our affordable G7 Dock and location beacon technology.
Many forward-thinking businesses are interested in taking their G7 Insight program a step further with our real-time safety service options. We provide a complete portfolio of options that enable real-time alerting to a live monitoring team, emergency response management, two-way voice calling, 24/7 live safety monitoring, fall detection, man-down detection, employee check-in and SOS latch.
This article has been used with pernission from Blackline Safety and was originally published on 28th June 2018.